It is so good when you hear similar messages in different ways and in different places; for me it just confirms that God is trying to say something to me. Last month Ali wrote about prayer and used the bible text from Matthew 21:13 where Jesus quotes from the book of Isaiah. In the article Ali emphasised the importance of prayer in the life of the church. The reason it was so significant that Ali chose this bible text was that God spoke to me a number of times during my Sabbatical on that same verse.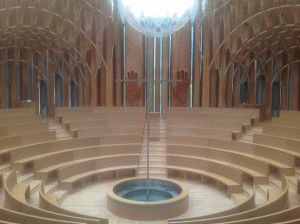 The first time this text came to my mind was when I was praying at one of the Prayer Mountains just outside Seoul in South Korea. I was sitting in the most beautiful prayer chapel I had ever seen made of cedar wood.
The architecture drew my thoughts to seek God in prayer. I prayed about what I had learnt so far in South Korea and I sought God about what He wanted to teach me from my time there. The text from Isaiah 56:7 came into my mind; 'for my house will be called a house of prayer for all nations.'
Firstly, my thoughts went to the building project and the vision we have for a prayer chapel or prayer hub. It seems to me that God was challenging me through the text and the beautiful surroundings to see this as the centre point to the building project. Up to now my thoughts have been on the coffee hub; now God was encouraging me to see the prayer chapel as the most important part of the project. The church is to be a place of prayer.
Secondly, I felt God speaking to me about the second part of the verse. The church is to be a place of prayer for all nations. Having now looked up the bible verse in different versions (to try and get a fuller picture of this verse), I have seen that 'all nations' has at times been translated as 'all peoples.' The church is to be a place of welcome for all people. All nations, all ages, all cultural backgrounds. I am pleased to say that we reflect this in the church already, but perhaps we can be a bit more intentional about this.
Thirdly, in the New Testament Paul speaks about us being 'God's house of the Holy Spirit.' The whole of our lives, whether we are in the church building or not; we are to practice prayer.
Since coming back from Sabbatical the theme of prayer has kept coming up. We are looking at the Prayer Course on a Sunday morning and through Connect Groups. In our services we are starting to encourage more people to lead prayers and we are having the Lord's prayer said in different languages. We are encouraging the children to learn the Lord's prayer through actions. Through the 'take away' sheets we are encouraging you to try different prayer tools at home to encourage your own prayer life.
Let me remind you there is the prayer corner on a Sunday morning where you can pray with two others about anything going on in your life. There is also an opportunity to pray with other people at the 'Call to Prayer' on Wednesday 12th October.
I am also greatly encouraged that Kathy McLenaghan felt God speak to her about praying for the spiritual life of the church and a group of us will be praying with Kathy.
Can I encourage you to read that verse for yourself from Isaiah 56:7 and ask God to speak to you about what this means in your own life and in the life of the church? It would be really encouraging to hear what God is saying through all of us.