Getting to know you better
We know meeting someone for the first time can be intimidating, and going to a new church for the first time can be nerve-racking. We want to help make your first experience at Worcester Park Church a great one.
Service Times
We meet at 10.30am every Sunday at 2 The Avenue, Worcester Park, Surrey KT4 7EW most folk start arriving from about 10.10am. There is an on-site car park.
What can I expect?
What happens on arrival?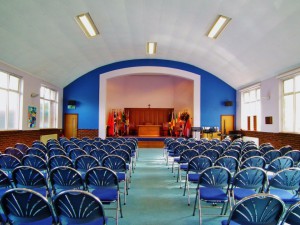 On arrival at the front door of the Church, you will be met by one of the deacons (leaders of the Church). Inside the hall, you will be greeted by one of our stewards who will provide you a copy of the weekly news sheet. This gives you details of what is going on at the Church.
Where do I sit?
There are no reserved seats in the congregation, so please sit where you feel comfortable. We have an induction loop which is in operation for the whole hall.
What do I wear?
There is no dress code – some folk prefer formal suits, some jeans and t-shirt.
How long are services?
Our services are around 75 minutes in length. Services are led by our Minister or one of our Service Leaders. We sing mainly contemporary songs with one or two hymns in our worship. The Word of God, prayer, and teaching are central to the service. All songs are projected onto a screen so you sing along and/or engage with worship however you fell most comfortable. If you have difficulty reading the screen, a printed copy of the words and a hymn book is available from the stewards. General directions for sitting and standing are given by the service leader, but feel free to remain seated if that is more comfortable for you. There is normally a 20-minute sermon.

Do you offer Communion?
On the 3rd Sunday morning we celebrate Communion during the service. This is open to all those who love the Lord and seek to serve Him. The bread (gluten-free) and wine (non-alcoholic) are served as you remain in your seat. We eat the bread as we receive it, but wait until all have received the wine before drinking.
What happens after the service has finished?
After the service has ended, we have a prayer team available to listen and talk with you. Please do make yourself known to our Minister, or one of the other Church leaders. We serve tea, coffee and biscuits after the service – please join us.
What's the culture like at Worcester Park Baptist Church?
Sundays at Worcester Park Baptist Church are engaging and relaxed. Come as you are and expect to feel welcomed as our guest.
What about my children?
We believe that kids should have a great time at church every single week – and at Worcester Park Baptist Church, we make this a priority. The other thing we make a priority is your children's safety and all our volunteers are DBS checked and follow our safeguarding procedures. Children's work is offered at every morning service for ages 0 to 16.
We meet altogether in the main church hall for the first 20-25 minutes of the service and then children and young people leave for their groups. If you wish to take your children to their age-appropriate groups and stay with them while they settle, then just mention this to one of the group leaders. Alternatively, you are very welcome for your children to stay with you in the main service.
Let us know you're coming
Ready to check out Worcester Park Baptist Church in person? We can't wait to meet you in person. Simply fill out the form below and we'll make sure to connect with you upon your first visit.